ART + SCHOOL + CARE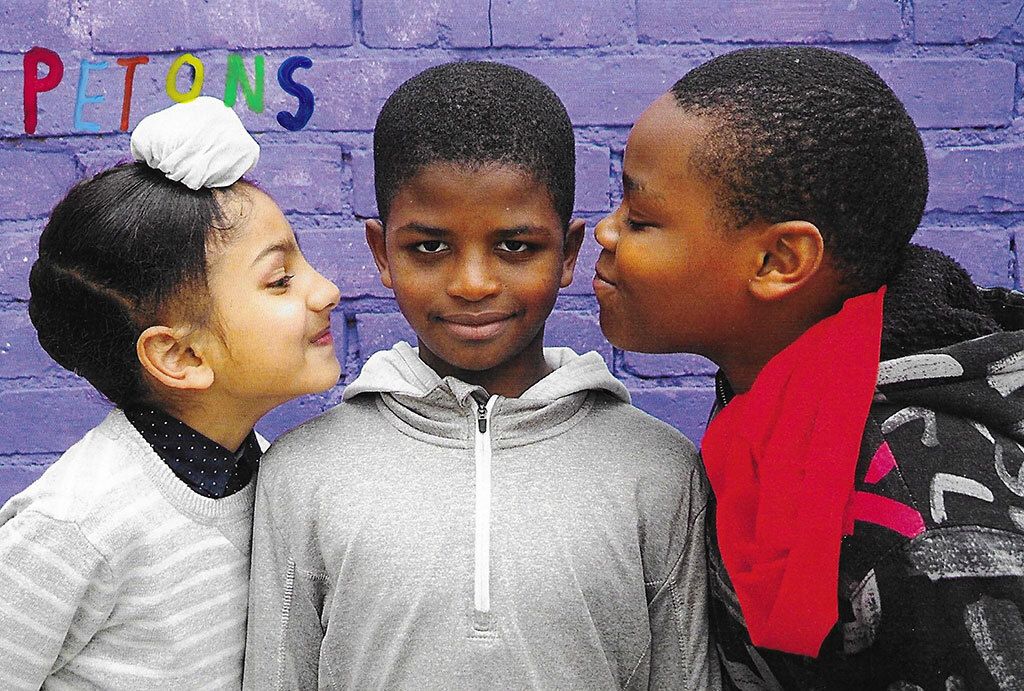 12.05 – 30.07.2022
Exhibition of projects from the eleventh edition of ART I ESCOLA
Curated by Assumpta Bassas
Opening, Thursday, May 12th at 7 p.m.
At ACVic Centre d'Arts Contemporànies (Sant Francesc, 1 Vic)
29 schools / 33 projects / 2.694 students
#artiescola
[More info]
Photography: AE11. School Sagrat Cor de Vic
ART + SCHOOL + CARING
Who took out their rubbish, who took care of their children,
who watered their gardens, who telephoned their grandparents,
who swept their rooms ...
while we put on an art exhibition?
More than thirty schools played their role in the new edition of ART and SCHOOL. Since its origins more than ten years ago, this project has become one of the pillars of an arts centre which envisions itself as a living institution that values and works with the local educational community, while also learning from it. This year's edition, which will examine the theme of "CARING", will moreover present the essential spirit and the general heart of this initiative. The project is founded upon all those expressions (the meetings, the emails, the work itself, the thought put into the project, the time dedicated and spent with positive feelings, etc.) that bring together and connect a working process that functions thanks to the care and attention brought to bear on the project by the many hands of the real protagonists; teachers and students, advisers and coordinators who every year share their enthusiasm, think, have fun, invent and materialise a work of artistic creation, relational creation, and educational creation.
I underline the word creation because it is essential to use it nowadays, changing completely the imaginary that has been imposed on us. Art i Escola is committed to contemporary art understood as an art of creation, that is, as an extraordinary mediation to promote real, integral and transversal growth, and, therefore to place trust in, and to support, the organic rhythm that everyone needs, young and old alike, in order to develop and grow in all vital dimensions. In the exhibition which we will present, we will therefore be able to appreciate how the initial brief has been extended in multiple directions within the specific contexts of the learning communities where it has been welcomed, and has taken on its own meaning; sometimes leading us to more familiar places, and other times towards unexpected and outrageous offerings, demonstrating that art and education are beginning to find common ground for dialogue, and for learning how to become partners in their relational journey.
The exhibition at ACVIC is not the project's main purpose, but it is one of its most visible parts, a presentation to be seen by other eyes, in the excited hope of sharing what has been made and what has been accomplished, celebrating how the project continues to inspire its participants and engage their interest beyond this presentation day.
The ACVIC exhibition team, paying close attention to the artistic content and the projects which they have received, has attempted to comprehend the ideas behind the projects, and the curator who now holds the responsibility for taking care of these projects has added her own interpretation of the working concept spin a tale in the exhibition's narrative. Let me explain. I have always understood "caring" as a "mother gesture", that is, the one gesture from which all others originate, because it is that which is necessarily there prior to us, and which therefore enables us simply to be, which is the most important thing. So, caring is a gesture which, if we practice it, carries us all "from a to b" because it opens up a new perspective for us, that of thinking of b, of the other. I also see it as a profoundly corporal gesture that carries us from head to hands, from trunk to toe, and which represents human beings' best ability, the possibility of moving from where we are for a reason of life, thinking and acting for the common good, which is also our own good.
The issue of caring is, therefore, one nodule in the network of issues that connects everything; the intimate and personal with the public and social, the realm of the body and individuality with that of relationships, the spaces we inhabit. and the things we use, the classroom with the community, our nature and the planetary ecosystem of which we are a part. We recognise, however, in the projects presented for the exhibition, a special interest in crystallising the issues in three obviously interrelated directions.
In one direction, we find works which have explored the importance of "taking care of our own learning community", and which have used the opportunity to highlight the importance of the quality of those human relationships that encourage healthy development: taking the time to decide whether everyone in the classroom is at ease, offering relational spaces so that everyone can get to know different facets of each other, among classmates, classes in the same school, and even among different schools, and even among inter-generational groups, for example with the elderly; raising awareness of and working to heal internal wounds, and to fix unhealthy collective dynamics.
In another direction, we find projects to highlight the importance of "self-care", understood not so much as achieving the personal autonomy of "invincible heroes and heroines" in an individualistic society, but precisely to place ourselves in a different paradigm and truly understand ourselves as vulnerable, interconnected beings in need of healing physical and internal wounds and rebuilding healthy bonds, that is, of valuing the importance of learning to grow through affections, understanding, serene coexistence, and all that boosts self-esteem and stimulates empathic and compassionate intelligence. Caring is related to the mending of real and metaphorical wounds in objects or in people, physical and psychological wounds, traumas or painful memories. However, not everything has a solution, as one of the student groups pointed out in a fun and surprisingly mature idea, the "anti-healing fountain". What does that mean? I asked, perplexed. "Some things can't be healed, so we have to accept it. For example, diseases. Sometimes, we die," they replied with enviable serenity and lucidity, surely the result of what they had learned recently from the pandemic. There are not always happy endings, and yet, I thought, it is worth drinking the water of the fountain of life.
Also, a third direction was an awareness of caring for the environment, starting with the school yard and the surrounding areas, to our relationship with the plant and animal kingdoms mainly. This is a fundamental issue that requires deeper work, because the situation is worsening day by day and globally compromising life on our planet, the planet that is especially that of the new generations. As ecofeminists have commented, ecological awareness goes hand in hand with the transformation of relational attitudes between us (especially between men and women) and vice versa, because "culture is part of the struggle for subsistence and life", and freedom is "loving interaction and productive work in cooperation with Mother Earth; knowledge is the knowledge of subsistence essential for survival "
Contemporary art has set to work, creating living laboratories that explore the needs and aspirations, the questions and answers that call for the interconnection of all subjects in terms of an art of subsistence based on singular and common development. This exhibition goes a step further and suggests that its audience discover how art cares for us, not so much as therapy but as a bridge that invites us to stay connected with ourselves and to discover, on the other hand, that which resonates or enlightens us about the other, that which creates word, thought or the impulse to elaborate in any language of creation. We invite you to take care of your own answers to the exhibition we present to you today.
Assumpta Bassas, curator of the exhibition
---
COMPLEMENTARY ACTIVITIES
ART + SCHOOL + CARE IN THE VALLÈS ORIENTALL
Inauguration of the programme coordinated by AC Granollers
Tuesday, May 24th at 6 p.m.
At the Granollers Museum (Anselm Clavé, 40)
THE WAY OF ALINE.Project presentation
Tuesday, June 7th at 6 p.m.
THAT WHICH CARES FOR ME. Family workshop
Saturday, June 18th, 11 a.m. to 1 p.m.
BAREFOOT. QUAM JOVE 2022
An intensive stay in nature from 12th to 15th July
---
Participating Schools
Escola Andersen, Vic. Institut Antoni Pous i Argila, Manlleu. Escola Bellpuig, Sant Julià de Vilatorta. Institut-Escola Carles Capdevila, Els Hostalets de Balenyà. Escola Doctor Joaquim Salarich, Vic. Col·legi El Roser, Sant Julià de Vilatorta. Escola El Vinyet, Solsona. Escola Estel, Vic. FEDAC Vic. Institut de Gurb. Institut Jaume Callís, Vic. Institut Escola Josep Maria Xandri, Sant Pere de Torelló. Escola L'Agullola, Rupit i Pruit. Escola L'Era de Dalt, Tona. Escola Bressol La Pitota, Prats de Lluçanès. Institut La Plana, Vic. Institut Les Margues, Calldetenes. Escola Mare de Déu de la Gleva, Les Masies de Voltregà. Institut-Escola Mestre Andreu, Sant Joan de les Abadesses. Institut Miquel Martí i Pol, Roda de Ter. Escola Ramon Suriñach, Ripoll. Escola Rocaprevera, Torelló. Col·legi Sagrat Cor, Vic. Col·legi Sant Miquel dels Sants (El Petit Miquel), Vic. Escola Segimon Comas, Sant Quirze de Besora. Escola Sentfores, Vic (La Guixa). Escola Tomàs Raguer, Ripoll. Escola Vedruna Escorial, Vic. Institut de Vic.


PROJECTS
HISTÒRIES D'ABANS EN CONTES D'ARA
ESCOLA L'AGULLOLA, RUPIT I PRUIT. Nursery (Kindergarten) and Primary. All years.
CURA
ESCOLA ANDERSEN, VIC. Upper School, Primary
TENIR CURA DELS ANIMALS
INSTITUT ANTONI POUS I ARGILA, MANLLEU. 1st year Secondary
LA CURA EN L'ART
INSTITUT-ESCOLA CARLES CAPDEVILA, HOSTALETS DE BALENYÀ. Secondary
APRENENT A TRACTAR-NOS AMB CURA
ESCOLA BELLPUIG, SANT JULIÀ DE VILATORTA. 1st year Primary
animalÀRTic
ESCOLA DOCTOR JOAQUIM SALARICH, VIC. 1st and 5th year Primary
CURA
COL·LEGI SANT MIQUEL DELS SANTS (El petit miquel), VIC. 5th year Secondary
L'ART DE CUIDAR / MOMENT ESPECIAL: CUIDEM-NOS!
ESCOLA EL VINYET, SOLSONA. Comunitat de Petits, Mitjans i Grans. All years
#LERATECURA
ESCOLA L'ERA DE DALT, TONA. 3rd year Primary
CUR4
ESCOLA VEDRUNA-ESCORIAL VIC. 4th year Secondary
DESPERTEM ELS CAP GROSSOS
ESCOLA ESTEL, VIC. Older students
QUI VIU A LA GELERA?
FEDAC VIC. 3rd year Primary
QRA
FEDAC VIC. 2n d'Educació Secundària
L'ART DE LA CURA
FEDAC VIC. 4th year Secondary
ART QUE CURA
INSTITUT DE GURB. All years, Secondary
CURA + COS + GRAVAT
INSTITUT JAUME CALLÍS I INSTITUT LES MARGUES, VIC I CALLDETENES. 3rd year, Secondary
PROJECTE INTERDISCIPLINAR LA CURA
INSTITUT-ESCOLA JOSEP MARIA XANDRI, SANT PERE DE TORELLÓ. Project led by 2nd year Secondary; Early Childhood, Primary and Secondary participating
L'ART QUE TOT HO CURA
ESCOLA MARE DE DÉU DE LA GLEVA, LES MASIES DE VOLTREGÀ. All years
LA CURA
ESCOLA BRESSOL LA PITOTA, PRATS DE LLUÇANÈS. Nursery
FAGRIQUEM PER LA CURA
INSTITUT LA PLANA, VIC. 2nd year Secondary
CurArt
INSTITUT-ESCOLA MESTRE ANDREU, SANT JOAN DE LES ABADESSES. All years, Primary
SONS QUE CUREN
INSTITUT-ESCOLA MESTRE ANDREU, SANT JOAN DE LES ABADESSES. All years, Secondary
I TU, EN TENS CURA?
INSTITUT-ESCOLA MESTRE ANDREU, SANT JOAN DE LES ABADESSES. 2nd year, Secondary
CurArtures
INSTITUT-ESCOLA MESTRE ANDREU, SANT JOAN DE LES ABADESSES. 3rd year, Secondary
HOMENATGE A TU QUE EM CUIDES
INSTITUT-ESCOLA MESTRE ANDREU, SANT JOAN DE LES ABADESSES. 4th year, Secondary
DESCOMPOSICIÓ. LA CURA A LA NATURA
INSTITUT MIQUEL MARTÍ I POL, RODA DE TER. 1st year, Secondary
ALEGRIA DE GATS
ESCOLA DR. RAMON SURIÑACH I ESCOLA TOMÀS RAGUER, RIPOLL. Groups 2 and 3 of Special Education, and 6th year Primary
COSIR I CURAR
ESCOLA ROCAPREVERA, TORELLÓ. 4th year, Secondary
CURA DE LA IMATGE PERSONAL
COL·LEGI EL ROSER, SANT JULIÀ DE VILATORTA. 4th year, Secondary
QUI TÉ CURA DE NOSALTRES?
COL·LEGI SAGRAT COR, VIC. From 1st year to 4th year, and 6th year, Primary
FRASES POSITIVES / PÒSTERS DE PROTESTA
ESCOLA SEGIMON COMAS, SANT QUIRZE DE BESORA. All years, Primary
ESPAI DE CURES
ESCOLA SENTFORES. Vic (La Guixa). 1st and 2nd years Primary
LA CURA A L'AULA
INSTITUT DE VIC. 1st year, Secondary
ART AND SCHOOL 11. CARE
Opening of the exhibitions