ACTIVITIES FOR SCHOOLS 2022-23
Curs 2022-23
GUIDED VISITS / GROUP WORKSHOPS / PROGRAMMES FOR SCHOOLS
All guided visits and educational activities are free
---
GUIDED VISITS
ACVIC has a regular exhibition schedule that changes on a quarterly basis, and also offers a guided visits service aimed at bringing art closer to visiting groups, adding to participants' basic cultural knowledge, and encouraging them to exercise a critical perspective.
All visits are complemented by an educational activity, which aims to provide a playful, more curiosity-driven experience of the exhibition's content.
Next exhibition
LUX & MATRIX
Curated by Rosa Martínez
30.09.22 – 30.12.2022
A ACVIC
[+ INFO]
---
GROUP WORKSHOPS
1. ESCAPE OF THE COLOURS!
The subtractive synthesis of colour
The colour has escaped from the story, and we must go and look for it. Members of the group will search for the missing colours around ACVIC, and will "capture" them, mixing paints together in an attempt to recreate them.
Using the colour palette which everyone has created, everyone will paint a mural togther. This workshop will make use of paint.
Duration: 1 hour and 30 minutes
Educational stage: Early childhood education. The workshop may also be adapted for primary school groups.
Group: Classroom group
---
2. ART AND COMMUNITY
Artistic installations
A presentation, taking the form of a debate, regarding artworks and contemporary artists who make use of art to speak of, and to speak up for, the community.
Participants will learn about art installations, and will create one in front of the art centre that will make those citizens who see it think about the intention or the need to create community.
Duration: 1 hour and 30 minutes
Educational stage: Primary education. The proposal may also be adapted for secondary school groups.
Group:Classroom groups
---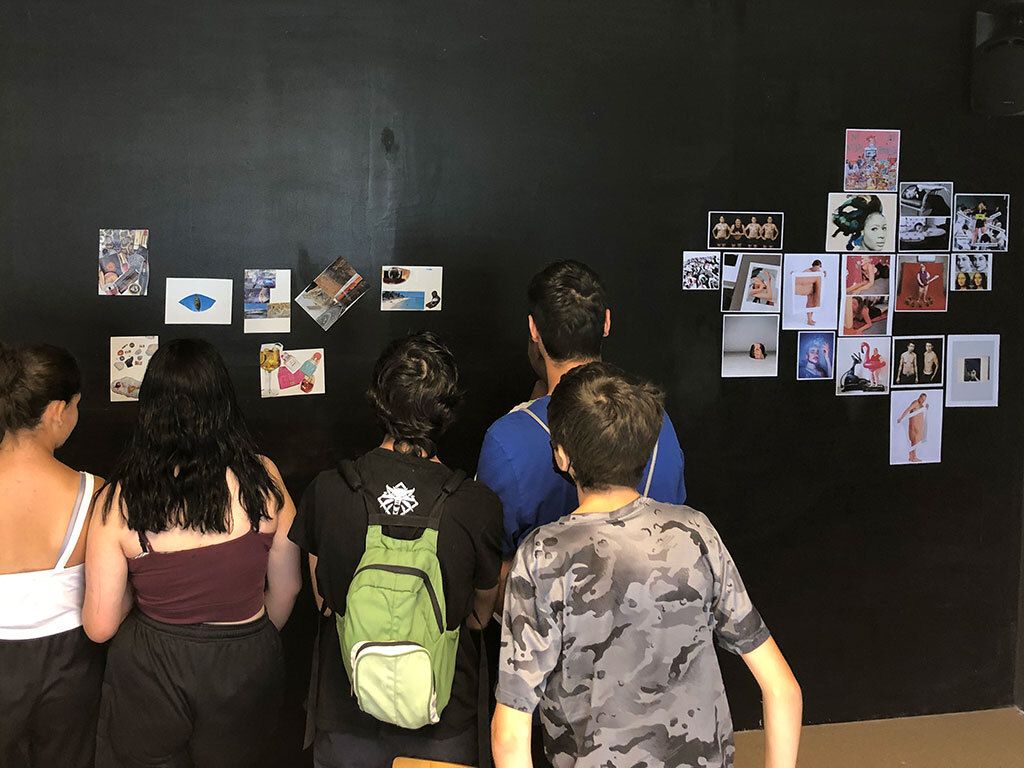 3. ME AND THE OTHERS
Identity and image
What things do I show other people about myself? What things do I hold back? Do I show the same things to everyone?
The debate will be based around a presentation of the works of several artists who examine identity and the body. Participants will make a collage which reflects upon their own identity, their own self-image and the relationships they establish with others.
Duration: 1 hour and 30 minutes
Educational stage: Secondary Education and higher studies.
Group:Classroom groups
---
4. MAPS
Cartography and photography
A cultural and leisure activity, examining photography and the city, which is offered to special education groups, or functionally diverse groups. This workshop combines contemporary art with visual education through a meaningful group experience. The idea is to supplement visual education through a fun activity involving the world of cartography, so that participants may discover and learn more about their surrounding environment, master the ability to find their direction in the countryside, and enhance their relationship-building and interpersonal communication skills.


Duration: 2 sessions of 1.5 hours
Educational stage: Groups with special educational needs
Groups: Classroom groups, or small groups. Maximum 20 people
---
OTHER PROGRAMMES FOR SCHOOLS
ART AND SCHOOL 12: ROOT

A programme aiming to promote and highlight the importance of art in schools.
> Registration open from 8th to 23th September 2022
More information and registration
THE PEDAGOGICAL SUITCASES OF LIGHT AND VOID
These suitcases provide educators with simple, lightweight materials for conduct classroom experiments based upon the themes of light and void.
More information and reservations
ACVIC WORKSHOP SPACE
ACVic's workshop space is equipped with power tools and workbench tools of the kind used in DIY projects, and other materials which may be of use in repairing, transforming and creating all kinds of objects.
Aimed at the general public, schools, groups and organisations from all around the region.
THE MINISPACE
A place where you can find a variety of story-books and picture-books to inspire children, leading them to experiment with, to create and play with, contemporary art.
---
Registration and more information on educational visits and activities:
93 885 37 04
This email address is being protected from spambots. You need JavaScript enabled to view it.
All guided visits and educational activities are free